What an amazing adventure..... to bring our 2- valve Guzzi to Bonneville.
Photos taken by Irene Kotnik, RACERFISH, Benji Busser & Lorenz Richard
The idea of taking ferdinand to speedwek was on our mind since two years. It took a lot of time to find the right partners and sponsors to turn our dragster into a land speed racer and our ideas into reality. First of all we`d like to thank our main Sponsors who have supported us and believed in our project!
shoei helmets europe, racer fish, benci brothers, taveri leathers, mahrs bräu, MoDI Motorcycles & more, rare inc., dhl motorcycle transports, burgerstein vitamins, loris lunettes, busser hausbau, radical guzzi, siggo, Polaris RZR, oncle patrick
From the beginning we already knew who would join the crew and how each person would enrich the team.
Benjis Family own an impressive grain ranch in the south of calgary, canada. His dad offered us to use two of his pick-up trucks and a camper in which 5 people would fit in. We made a use of the offer and made plans to get our bike to calgary one week before speedweek starts. As we know the very nice ladies from DHL Motorcycle transports Germany we got in touch with Sabine Roettel wo has helped us a lot on bringing our Bike to canada and has also prepared all the paper work to bring it from canada to the united states and back again.
Because of generous Sponsoring of DHL, Ferdinand was a lucky bastard to hit the plane instead of getting shipped in a moisty container for more than a month.
Just after we have landed in calgary on the 6th, the bike was already in the warehouse and ready to get picked up by us.
After receiving Ferdinand we have worked on the bike for another three days. when we wanted to start it the clutch somehow did not engage anymore so we had to take the gearbox of the bike and get it fixed.
While some of the team was working, the others went to pick up a brand new Polaris RZR a close dealership. As we are in a great partnership with Indian motorcycles which is owned by polaris we got this fantastic beast as crew vehicle for bonneville. It quickly turned out that rzr would become our best friend while this trip.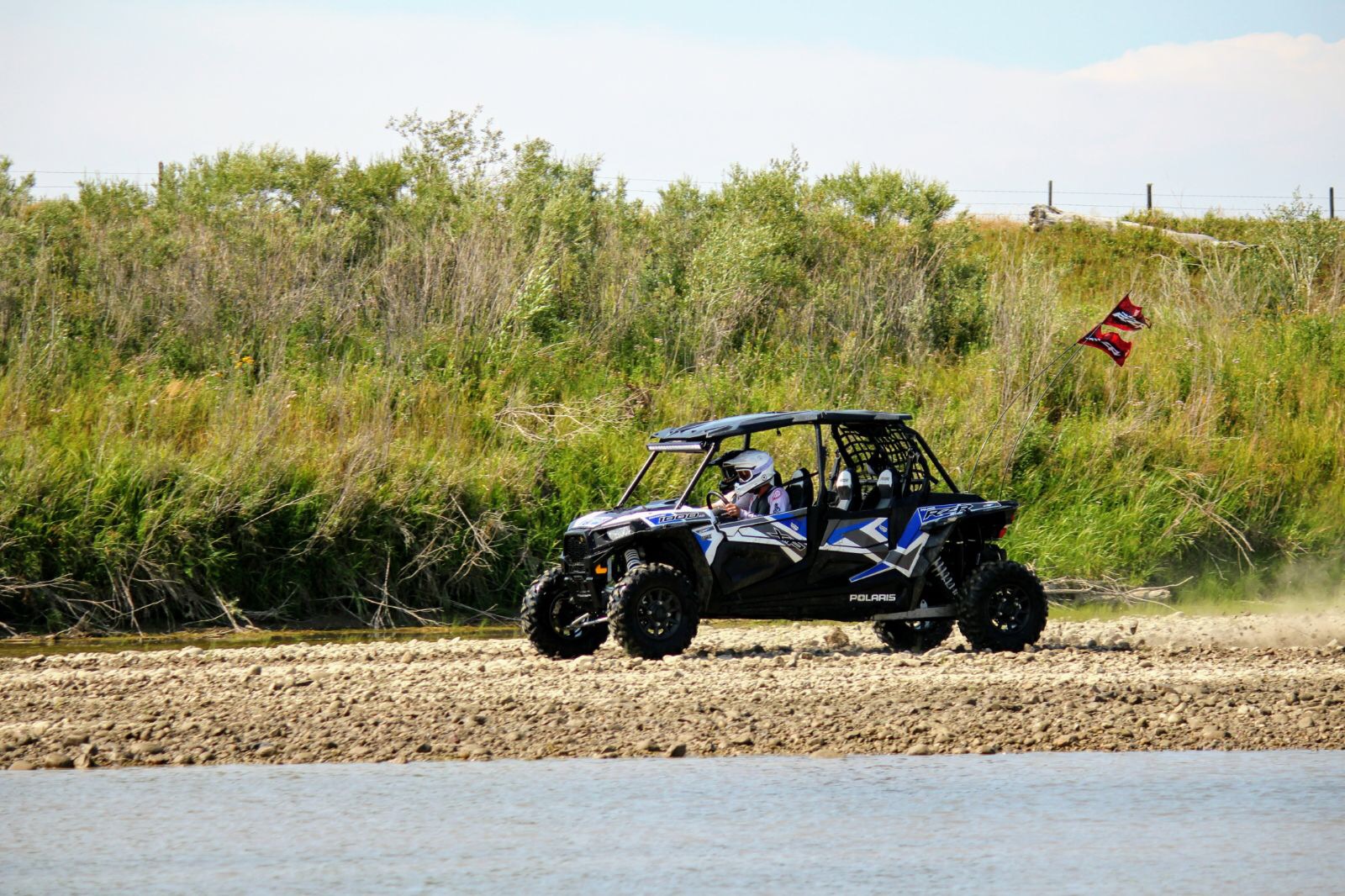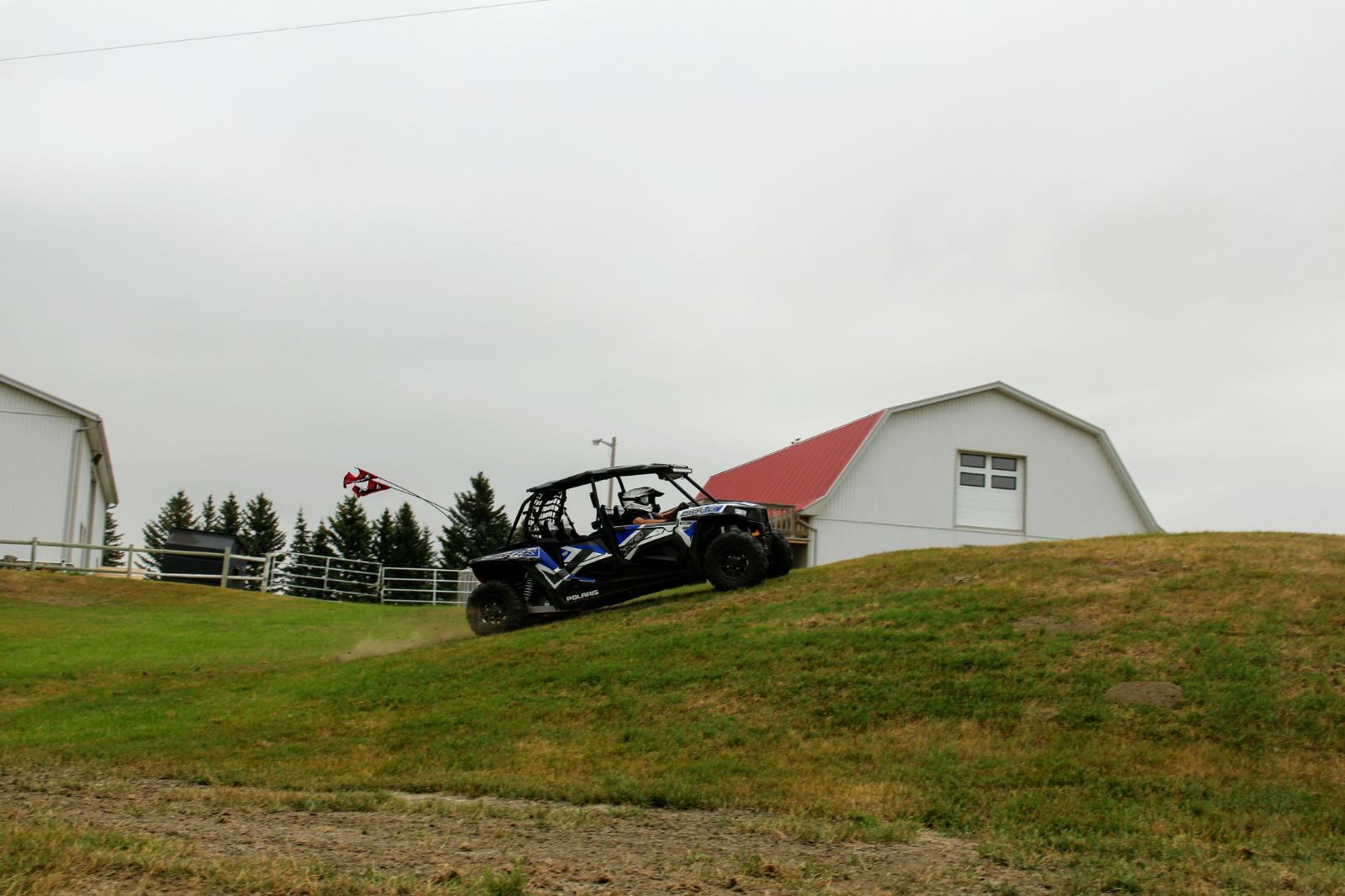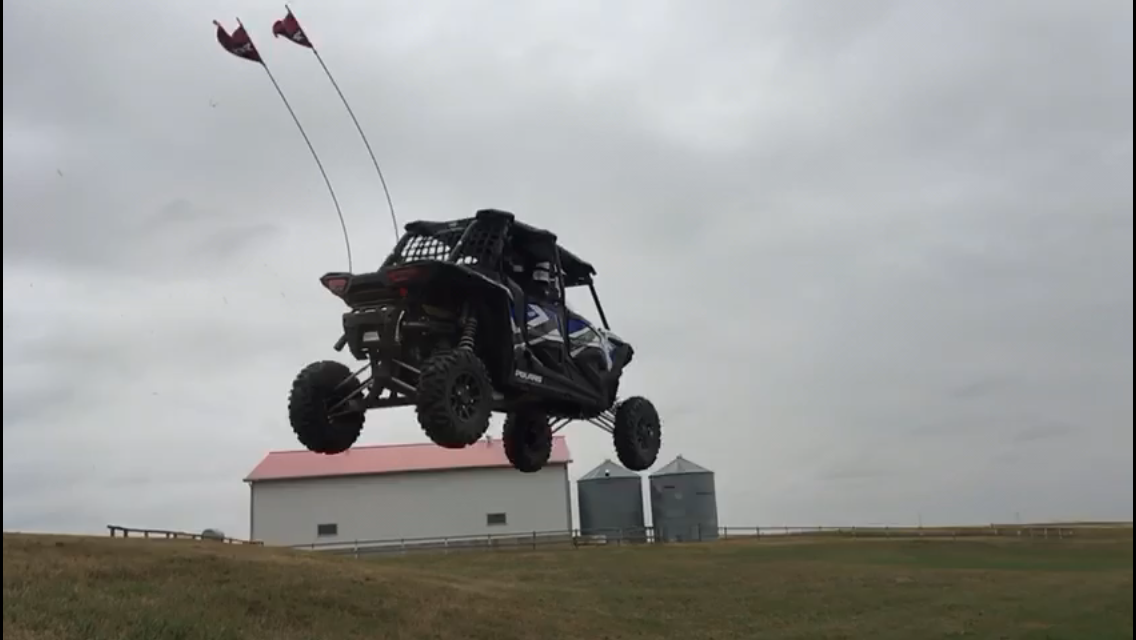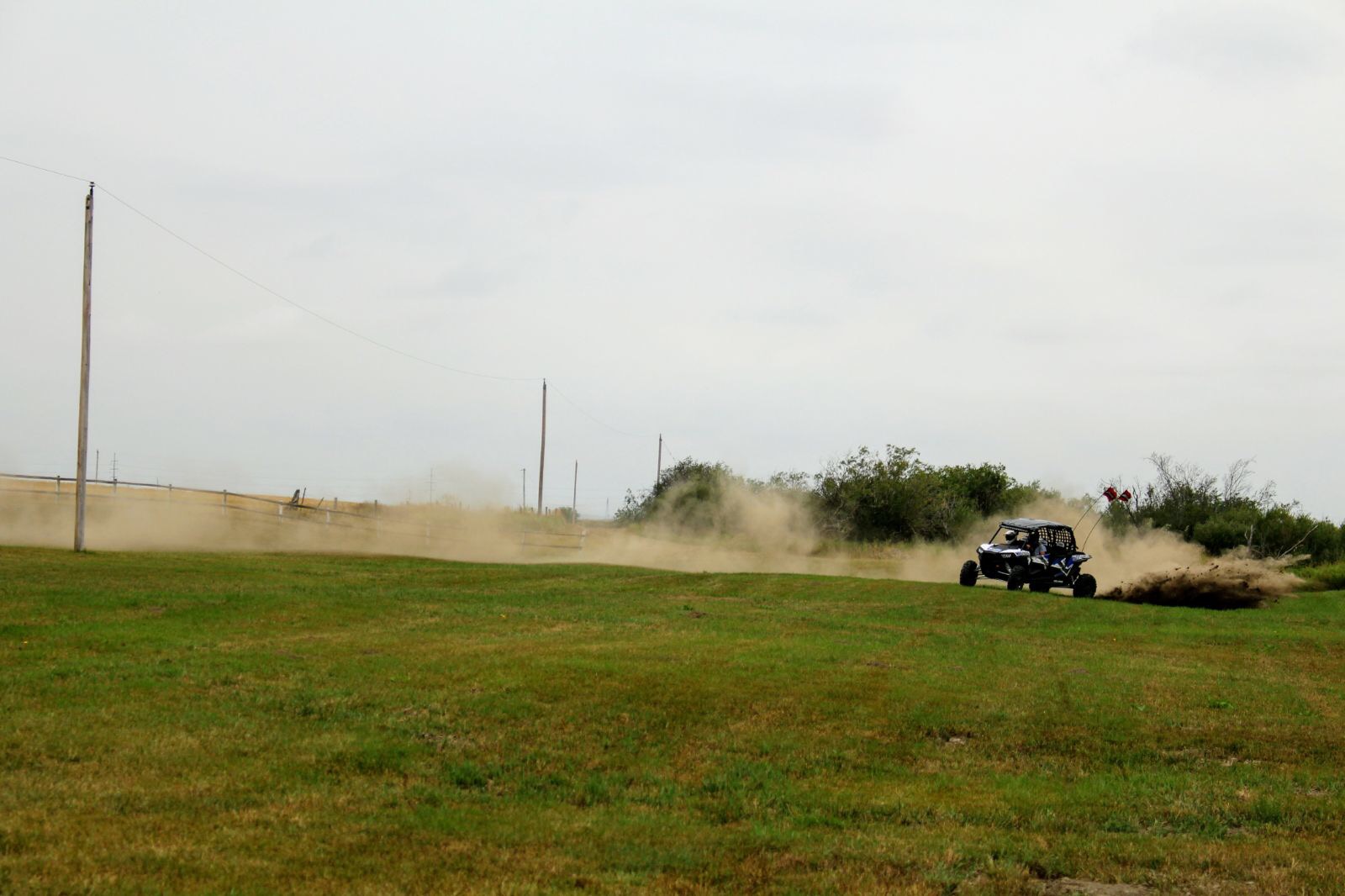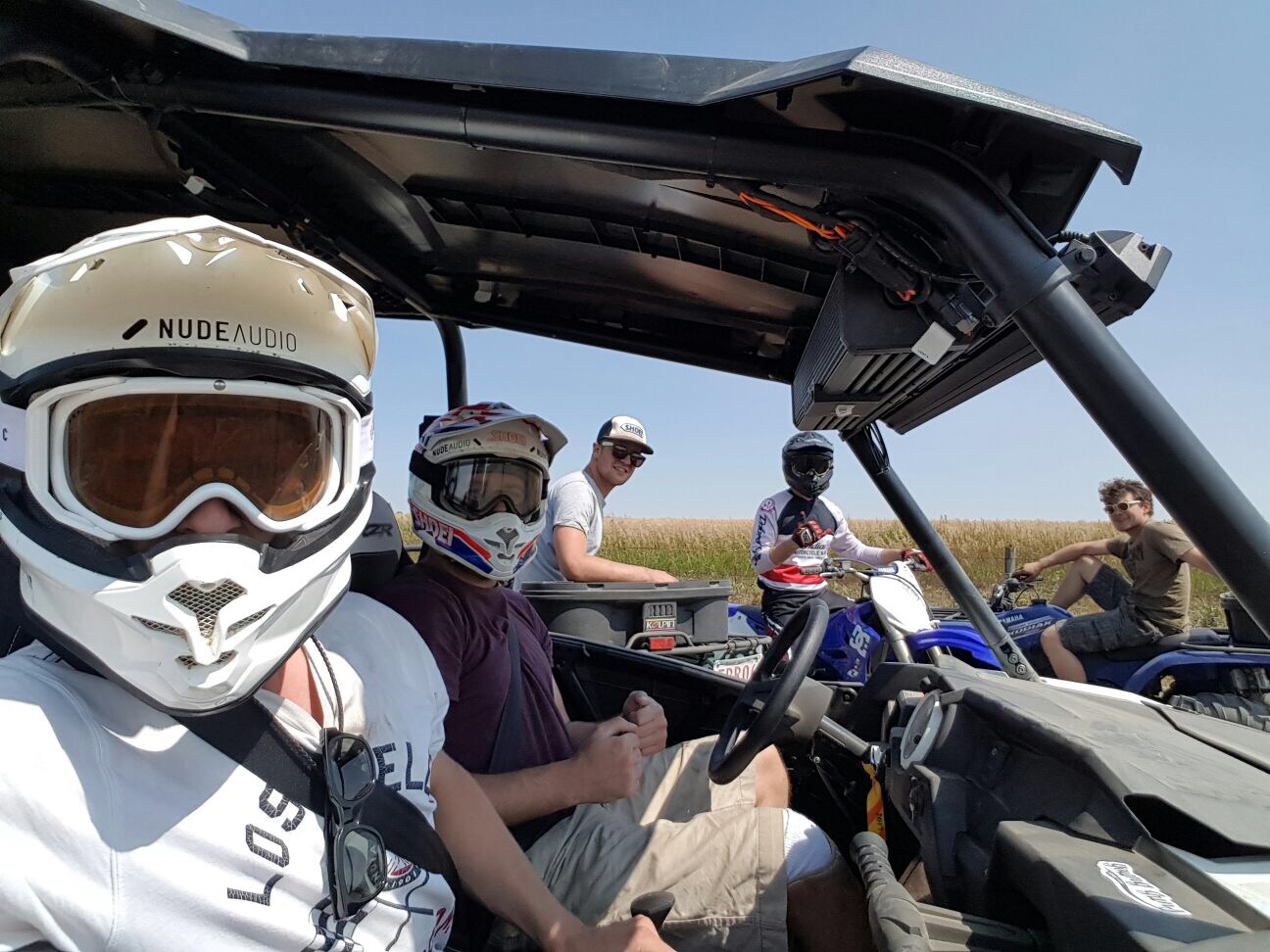 Marco from time to time had to break out of wrenching day and night, swung his leg over benjis 2-stroker and sent it for the boys!
After finishing and finally testing the bike we packed our stuff to hit the road for 1600km from calgary- montana- idaho to utah. it took us two days of driving and we finally arrived at the fastest place on earth, the holy bonnevile salt flats.
....oh, hello bonneville!
After arriving we have set up our camp on the outside of the bend when you are on the way to enter the salt flats. Our plan was to show up at tech-inspection on saturday afternoon, because the lines at the race tracks won't get any longer than on saturday morning, the day speedweek begins. The same night niks oncle patrick has arrived at the camp together with dan druff a.k.a. Franz and Grubb Eng. with their amazing land speed racer triumph named Cheetah.
Getting the bike thru tec-inspection was not easy at all. even we have been very deep in the rule book of the S.C.T.A., inspector peppi has always found something he could point on. Just insignificant things as to small starting number, a stronger nitrous valve cover, even it was sitting somewhere it could have never, ever been hit. Finally after the 4th inspection, the chief inspector gave green light for us and the bike to ride it on the race track. Fuck Yeah! we understood that the s.c.t.a. would go thru the bike very precisely as they have never seen it before, we were a young bunch of guys and they rated it to be able to hit 200mph. The whole team was very excited to finally see it running out there.
on our first run we sadly have not made it up to high speed and quitted the run before the second time trap. We found out that the tank valve was not large enough to run it on full throttle for such a long time and the engine would suffer from not getting enough fuel.
on the second run we had exactly the same symptoms which we cleared by installing another fuel line.
third run went well but nik, who was riding the sled did not rev 4th gear high enough so the engine was not able rise rpm in 5th gear, they even left the measured mile slower than entered. average speed over one mile was 143.6mph. after this run fabian has re-jeted the carbs which was very difficult even we had a fuel/air ratio gauge installed, in the afternoon altitude rised up to 7800 ft .
while the 4th run everything went well and the engine revved up to almost 9000rpm in 4th, click into 5th but still no power output. 149.88mph average over one mile. we have talked to people, the starter and figured out that most racers out here call 150mph the wall.
after the 5th run we have really started to get to know the motorcycle we have built, but never tested. we wanted to hit the 150mph so hard. so nik just stayed in 4th while the whole mile and made it up to 156.33 mph average over mile two.
after less than one mile on run nr.6, ferdinand sadly ran out of battery. somehow our battery must have lost some of it`s endurance.
in the beginning of the week, the salt was very wet, riding fast was very difficult and dangerous. one of the biggest problems motorcycle racers had to face was salt on the visor. the salt was so wet that the front wheel has picked up a lot of slush and coverd their vision. so we had to spontaneously fabricate a front fender out of a baking sheet. Many well known racers have left speed week while the first days because they were far away from the records they wanted to chase. we had to learn that we can very easily burn a big amount of horsepower on a slushy and slippery surface at high speeds.
After one or two runs per day we had to leave the salt flats before 8pm and headed back to our camp which was just 3 miles from the entry point of the salt flats. coming back to the camp after a long day on the salt has always been a nice moment. we all set together at the table, enjoyed home made food by alessandro & benji and had a chat about the past day. mostly after dinner a few guys went for a late night ride with the polaris rzr while fabian and nik were preparing the bike for the upcoming race day, so did the crew of bike number 35 called cheetah and owned by oncle patrick.
After a few more runs on the short track where we mostly struggled to achieve high speeds, it got shut down on thursday around noon because it got worn out and there were not many teams left who would race anyways.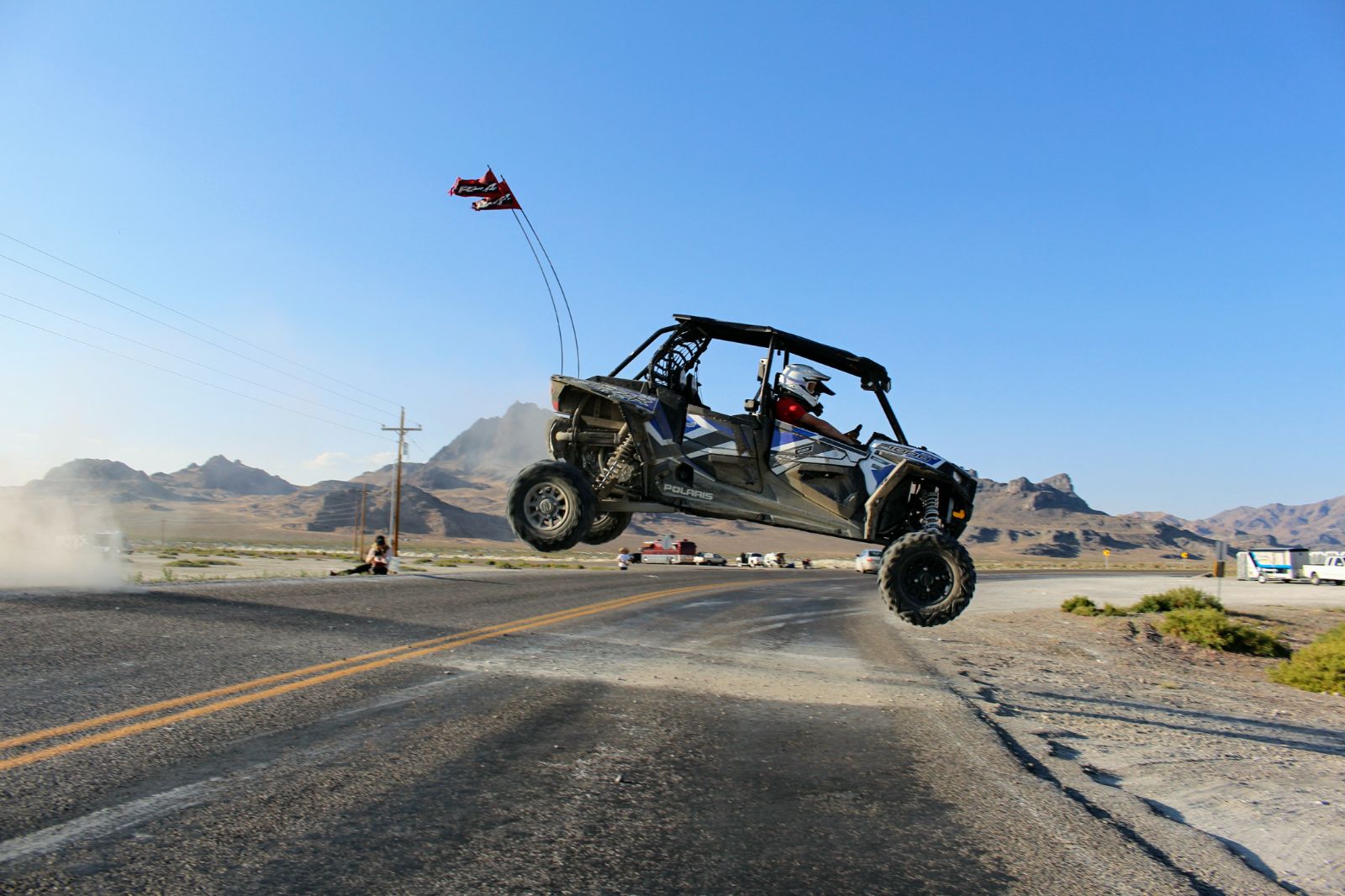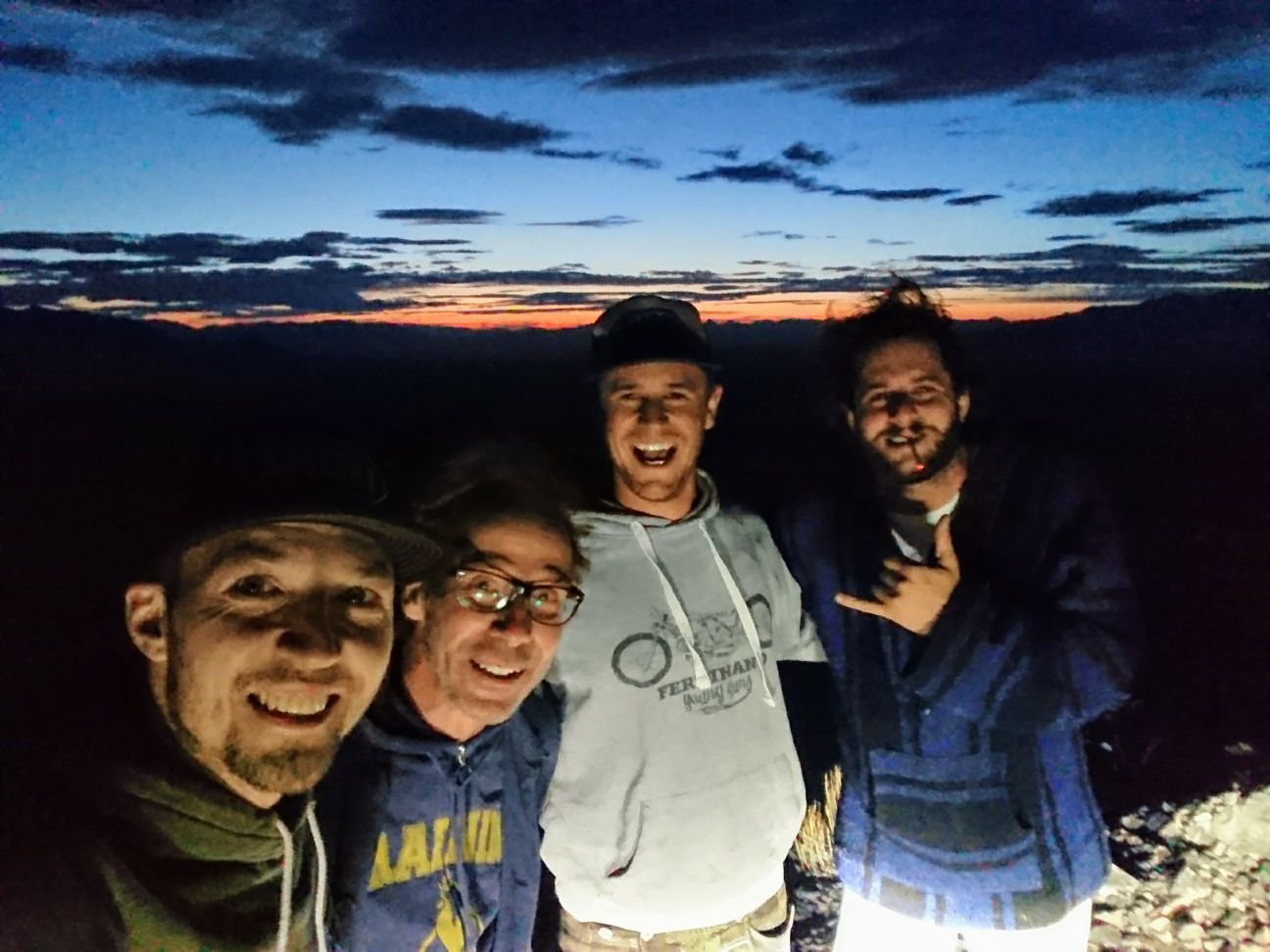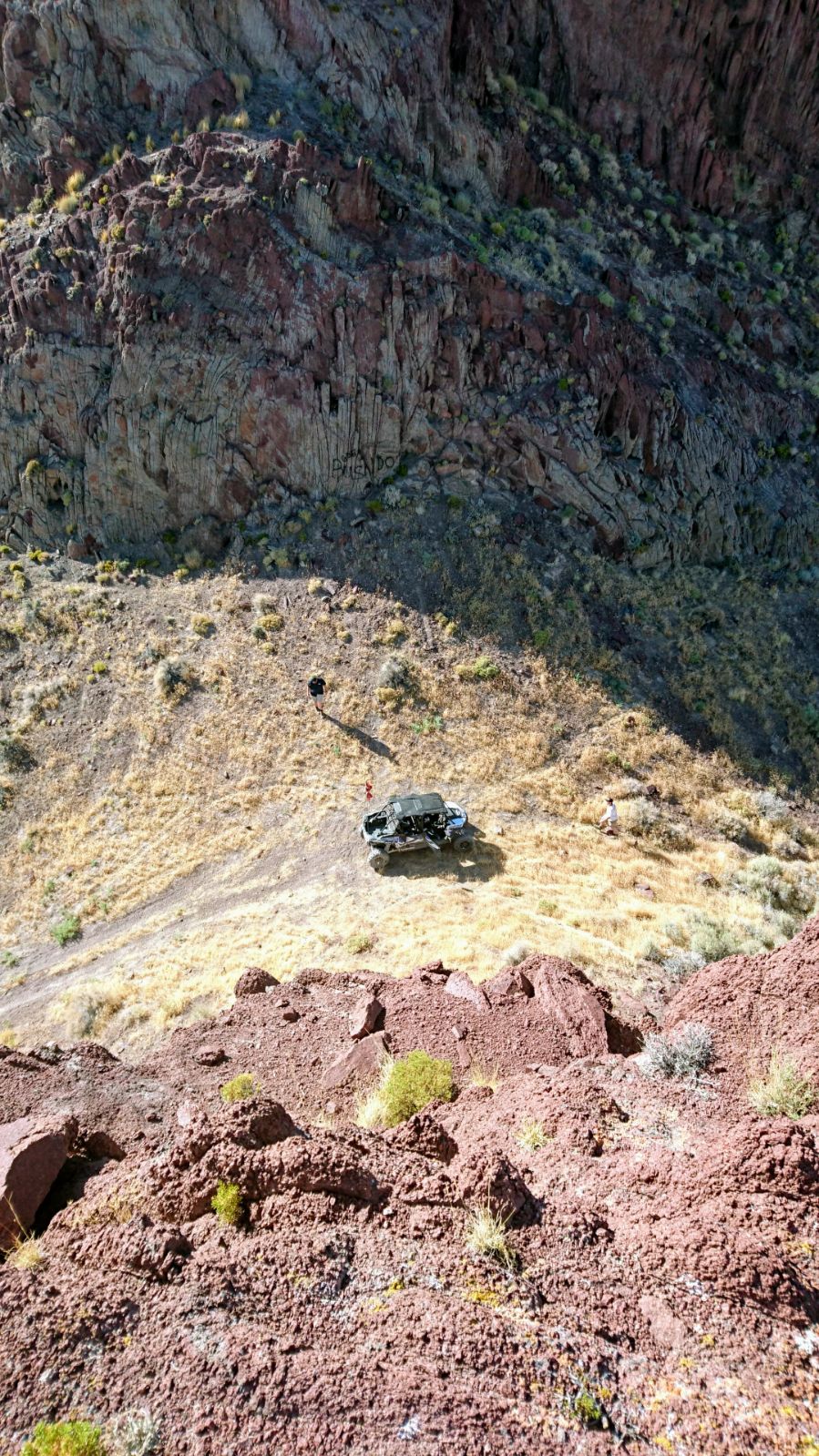 friday was the day we planed to send it. the salt got better and better day by day as heavy wind during night has dried out the wet salt and made it become hard. in cause of all the other tracks got shut down we moved on to the long track. on our 11th run, but first on the long course we have planed to torture ferdinand with a massive shot of nitrous. 1th to 6500rpm - 2nd 7000rpm - 3rd 7500rpm- 4th 8500rpm- 5th ( nitrous activated) .......... it started to spit! our magnetic remote shut off valve for the nitrous system was bitchin`. the engine has received the extra fuel for cooling down the nitrous, but sadly there was no nitrous going thru our fucking safety shut off valve. with the extra fuel the engine got to rich, started to stutter and did not climb on rpm.
12th run- final run! we have solved the problems with ferdinands nitrous valve and ready to reach for the stars. ferdinand picked up speed very quickly at the first mile, we got measured at 148mph while picking up speed in 4th gear . within the second mile our plan was to shift into fifth, wide open throttle and active the +80hp nitrous to get measured in the third mile. once activate it accelerated very, very hard including wheel spin and serious hauling. sadly after 4second fun was over and a very loud, somehow frightening BOOOOOOOM came out of our engine. nik has immediately pulled clutch before anything locked up. this is it.... the dream of becoming the worlds fastest moto guzzi in history. We guess that we blew our engine at something around 265kmh due to much heat. after the run ferdinand made very crazy noises when pushing him around in gear without any compression.
it was time to pack our stuff and get out of here. 7 days on the salt flats was enough! it was very interesting, exhausting and for sure amazing! mostly we have learned that you need a very serious amount to achieve speeds of 280-300 kmh which was our target. also dan druff from franz & grubb engine has left bonneville and headed back to la to his workshop and family without being able to break their own record which we have set last year in collaboration with him and oncle patrick.
after blowing our engine We packed our stuff and directly headed back to calgary. when arrived we had to clean our vehicles for on whole day because salt got into every smallest edge of the bike and also the crew vehicle truck. after waking up the next day, benji felt the desire to show us his lovely country. so we took the family van to drive the glacier road up to jasper and stayed in banff for a serious night of celebrating that we have survived speed week!
fabian, zesi and nik have accepted the invitation for wheels & waves in cayucos, california. so we took a plane from calgary to los angeles where we would meet young guns photographer lorenz richard and his girlfriend jasmine. from lax we directly headed to the next indian dealership to pick up 4 brand new indians, two scouts and two springfields.... fuck yeah!
after packing our belongings (not a lot) into the bagger style boxes we headed up north direction cayucos. it fucking took us forever... we got stuck in legendary la traffic jams and it was incredibly hot!
wheels and waves has been lovely! 200 invited people... mostly people we never find time to talk to while wheels and waves biarritz or other events. the location, the people, the way paul d`orleans and the south siders have taken care of us was fantastic! thanks a lot!!!!
after wheels and waves we headed back to la including an overnight stay in santa barbara to visit and stay at our friend willi boelke a.k.a kraut bros place. he took us for a late night ride in his dyne flow to show us town and view from the hills. good times! the next morning we rode to ventura to check out willis classic sport car trading company and talk about maybe relaunching his 4- wheeled bonneville project in collaboration with us. stay tuned....
after leaving willis place we directly headed to the indian dealership to return the bikes because we still had a plane to catch the same day....to arrive in zurich pack our stuff and directly head to glemseck 101 in our indian motorcycle racing truck for the last race of the season. over-out.... thanks to everyone who has made this trip unforgettable!!!!!
our official media partner racerfish is producing a short but very delicate documentary about the trip which will be published very soon!